high power 300w waterproof long range irradiation search light
What do marine searchlights do?
1) The marine LED searchlight is applied to long-distance illumination and night searching&rescue. It's a must-have device for navigating in the river or lakes of dusky areas and is widely used in outdoor places such as boats, vessels, dock ports, and store places.
2.) For Ocean-sailing vessels: marine searchlights are placed on the top of the wheelhouse at the front of the vessel

How to choose the correct marine searchlight?
With so many different options available in the market, it can be difficult to find the right product to match your requirements.
But first of all, it won't be pleasing if the searching light on board is fail to work during the voyage. So the quality of the fixture comes in 1st priority. Comparing the weakness/fragile of a traditional light source such as xenon, and halogen bulb, there is no doubt that LED light source is far more reliable.
Secondly, you will not like to miss the rescue target or a hidden reef that appears in the blinking of an eye, but it takes minutes to fully light up the traditional searchlight. So the instant on-off function is extremely important in the real case.
Last but not the least, when a searchlight is on, a sharp and clean beam is expected. But the fact is there has been too much spilling light that lights up the whole deck and distracts the sailing and the on-deck operation!! It's a terrible truth that most shipowner is likely to ignore.
Here is the conclusion: the good searchlight shall be the one equipped with an LED light source, and performs greatly in light distribution. And that is the KCOB searchlight.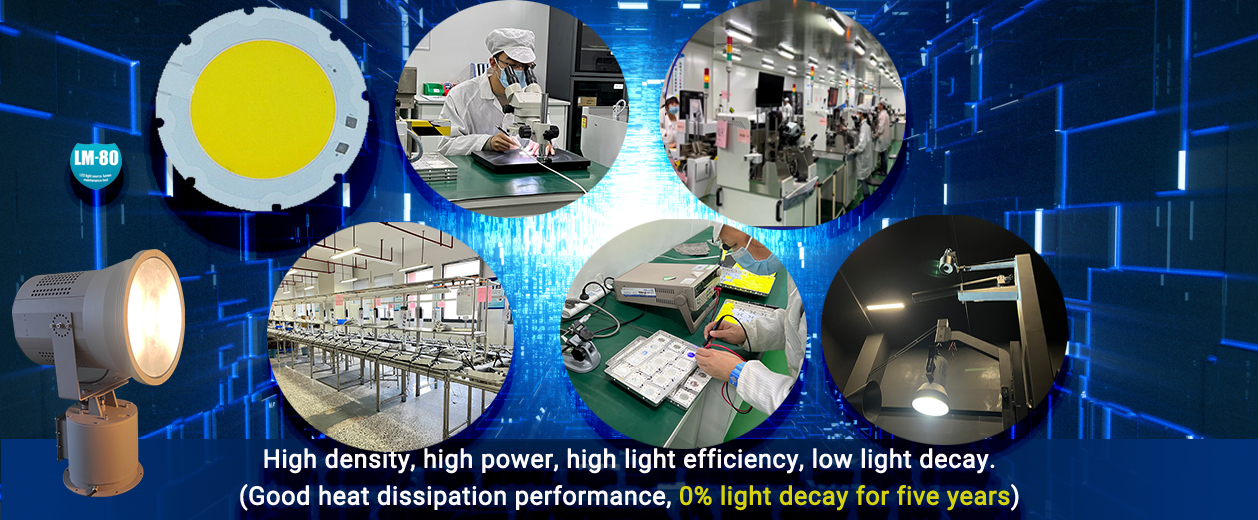 K-COB MARINE SEARCHLIGHTS 300W
1)    The lighting distance and illumination effect are better than 1000W halogen tungsten lamp, the illumination distance is more than 2000 meters.
2)    Low energy consumption, environmental friendly, shock-proof, anti-corrosion, waterproof, long service life of light source (LM-80 passed,4 PCT patents ).
3) Remote control
The lamp body can pitch up and down by ±30°, and rotated by 350° horizontally automatically .
K-COB MARINE SEARCHLIGHTS (CCT:3000K)
PHOTOELECTRIC PARAMETER
| | | | | | | | |
| --- | --- | --- | --- | --- | --- | --- | --- |
| Item No. | Power | Input Voltage | CCT | CRI | Central brightness(cd) | Lighting distance | Beam Angle |
| SC300 | 300W | AC90~305V | 3000~6000K | 70/80/90ra | 2,500,000cd | 2KM | 6° |
| SC500 | 500W | AC90~305V | 3000~6000K | 70/80/90ra | 4,500,000cd | 3KM | 4° |
ILLUMINANCE LEVEL
| | | | | | | |
| --- | --- | --- | --- | --- | --- | --- |
| Item No. | Lx 100m | Lx 500m | Lx 1000m | Lx 2000m | Lx 2500m | Lx 3000m |
| SC300 | 250 | 10 | 2.5 | 0.625 | N/A | N/A |
| SC500 | 450 | 18 | 4.5 | 1.125 | 0.72 | 0.5 |
PERFORMANCE
Comparing with traditional search light (Tungsten,halogen, Xenon )
| | | |
| --- | --- | --- |
| Item | Traditional Searchlights | K-COB led searchlights |
| Water-proof | IP54 | IP65 |
| Start-up | (Fully light up) More than 5minutes | Instant |
| Reliability | The bulb is very weak and easy to break | Reliable and durable,shock&corrosion resistance |
| Power consumption | High | At least 50% energy saving than the traditional light source |
| UV | High UV, harmful to the human body | No UV |
Comparing with common LED "searching light"
Item

Common led searchlights

K-COB LED searchlights

Distribution method

By multiple PC lens/reflector.

The outcoming beams are not able to be fully overlapping which results in stray light and weak central brightness, This design was for Architectural Lighting

The light is coming from a tiny single COB chip

Distributed by the customized fresnel lens system, ensure the high central brightness.

Distance

The real lighting distance is always shorter than advertising due to the poor distribution. Most light energies are wasted

Guarantee the performance of long-distance(2km/3km) . Real customer testimony.

Wind resistance

High wind resistance

Low wind resistance, suitable for offshore works
Comparing with professional search light
| | | |
| --- | --- | --- |
| Item | other Professional led searchlights | K-COB LED searchlights |
| Using experience | No strict control on the stray light. The light coming from the fixture will light up the whole deck and interference with the sailing | Most stray lights were eliminated.No more distractions for sailing/operation on deck |
| Light spot size | In the case of a very small beam angle provided by the fixture, if the central brightness is not enough. The small spot could not provide a good vision in the distance | Enough brightness is guaranteed within the declared distance |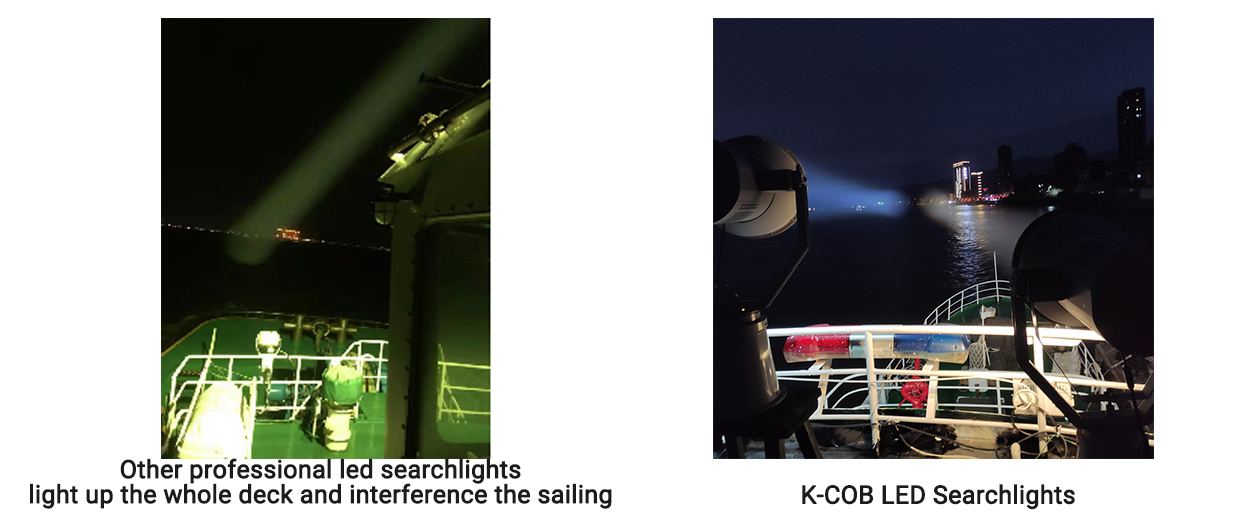 Dimension Drawing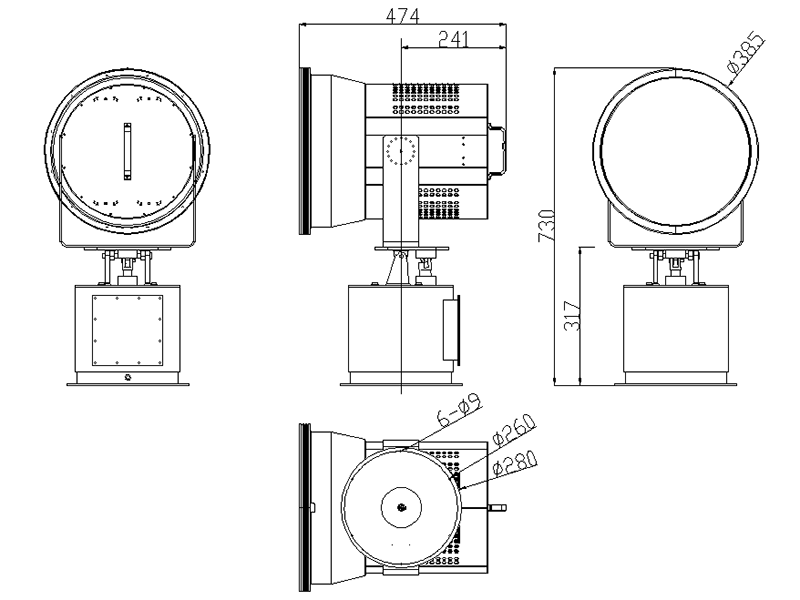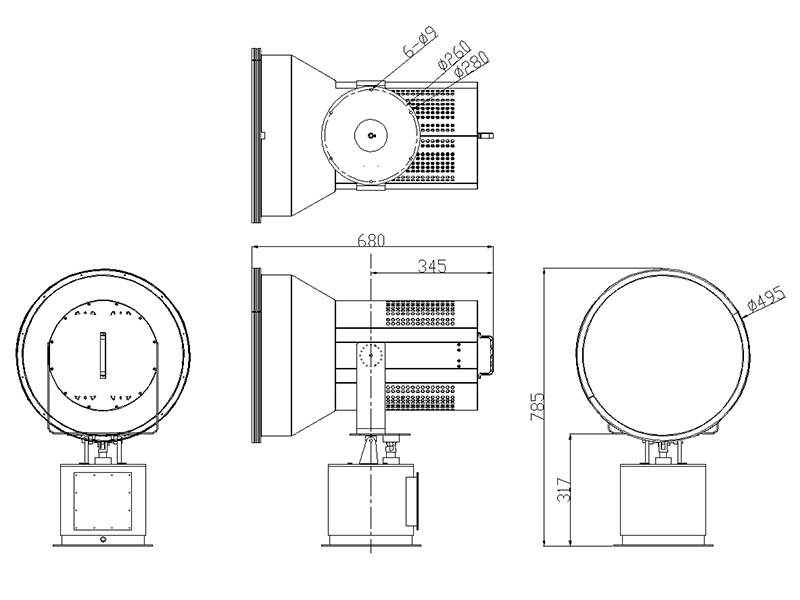 K-COB Quality Assurance and Service
1. Strict management, production, and inspection processes to control the quality and avoid detailed mistakes
2. Design and produce ability
3. Strict inspection including material inspection, flaw detection, etc., and double-check is a must.
4. Advanced factory facilities ensure
5. Response to any inquiries within 24 HRS with a design or efficient solution from our engineer or tech supporter.
6. Provide professional customization service according to client's requirements
7. On-time delivery, as we have a strict production schedule and professional follow-up process
8. Competitive price and professional service
We guarantee that our products meet the high-quality standards that are required under tough and demanding weather conditions. Our products are designed and manufactured for extreme environmental conditions. Welcome leave a message here, send us an inquiry and we'll reply to you within 24hrs.
Write your message here and send it to us