Energy-saving and environmentally friendly 1200W strong power Fish attracting for Marine research
BUY FISHING LIGHTS GUIDE :
There are many fishing light options that you can find in the market. but finding the best one can be difficult. If you're looking for a fishing light that'll fit your needs, here's what you should know in advance.
The metal halide lamp is an important tool for fishermen to attract fish and purse seine. It can be divided into two types: overhead fishing light and underwater fishing light. But there are certain defects in metal halide lamps as well.
The popularization of LED lamps has become a revolutionary product in marine lighting. Improve the shortage of the traditional fish light, greatly reduce power consumption, It can save more than 50% of energy consumption, and at the same time extend the lifespan more than 3 times which is with good economical efficiency. And it's also more eco-friendly, safety for people and ocean animals.
K-COB OVERHEAD FISHING LIGHTS COMPARING WITH TRADITIONAL FISHING LIGHTS AND OTHER LED FISHING LIGHTS
| | | | |
| --- | --- | --- | --- |
| Traditional Metal Halide Bulb lights | Other LED Overhead fishing lights | K-COB Overhead fishing lightings | K-cob advantage |
| 30pcs*500w=15000w | 3pcs*900w=2700w | 2pcs*1200w=2400w | Save up to 85% of Energy |
| 80lm/w | Red color 40lm/w,White 100lm/w | Red color 40lm/w,Yellow & green color 140lm/w,White 130lm/w,Yellow 110lm/w | Easy light color changing:green/red/white optional;High light efficacy. |
| Light decay around 20% after 1000hours | Light decay around 20% after 3years | Light decay 2% after 3years | Longer lifespan, save the cost of changing led lights and maintenance free |
| Glass bulb, the surface is hot and easy to break. | Tempered glass | Tempered glass | Shock&impact resistance. More reliable during the voyage. |
| Weight:90kgs/pole | Weight:78kgs/pole | Weight 40kgs/pole | Lightening the Load of ship |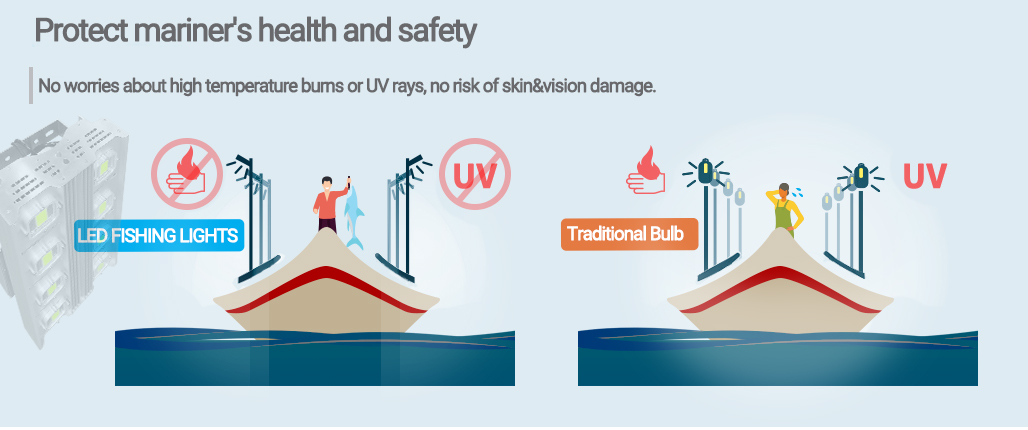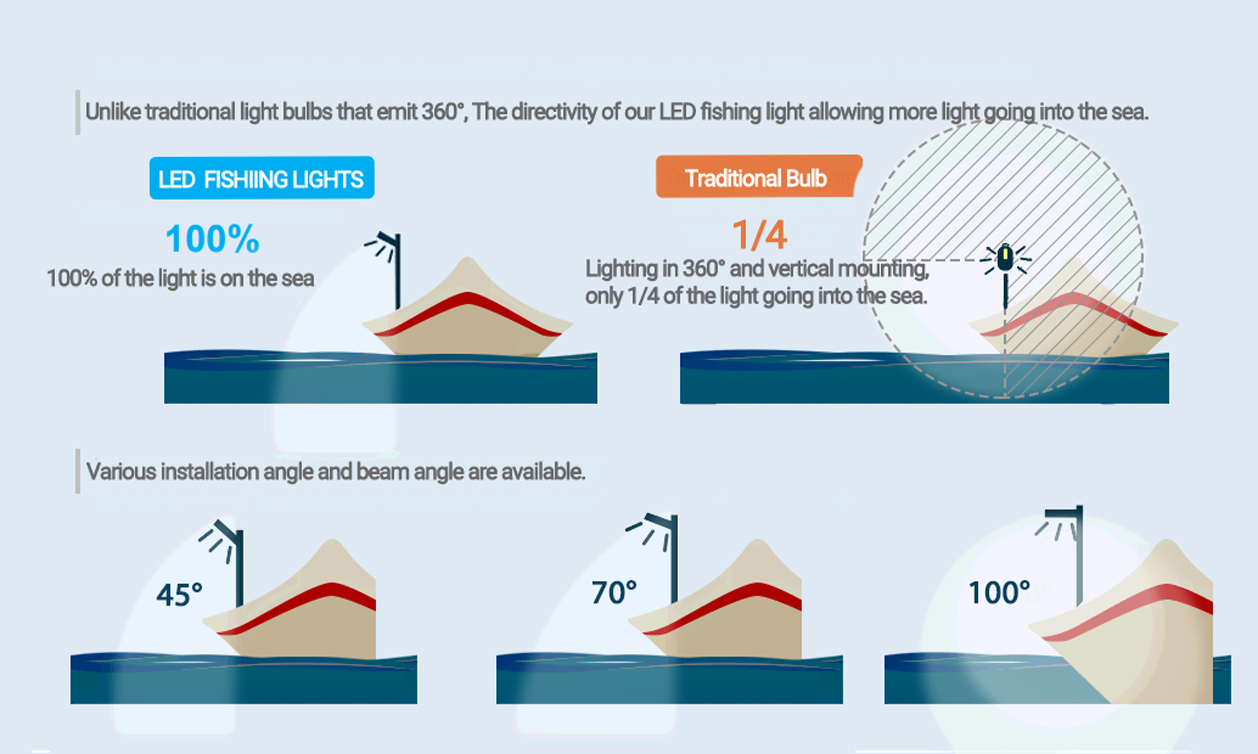 This overhead LED fishing lights source has obtain an excellent directivity and exclusive spectrum effects that is perfect for attracting Saury fish. Its aluminum housing guarantees good IP & heat-sinking performance and good resistance for temperature & acidity as well.
Specification
| | |
| --- | --- |
| Item No. | OFS1200W |
| Power | 1200w (Green light/Red light switch) |
| Size | 610mm X 300mm |
| Weight | 20KG |
| Dimming | Available by using switch |
| Input Voltage | 220V / 380V (Optional) |
| Color choice: | Red,Yellow-Green,White |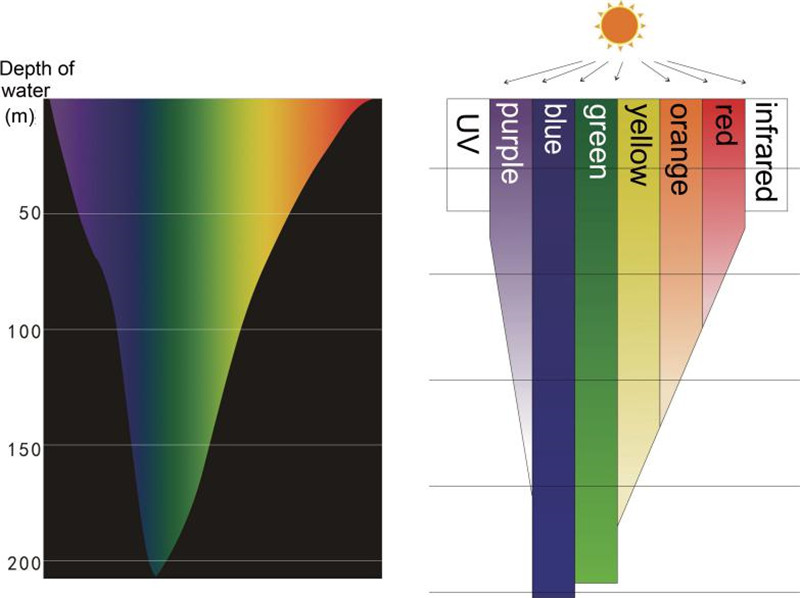 Operation diagram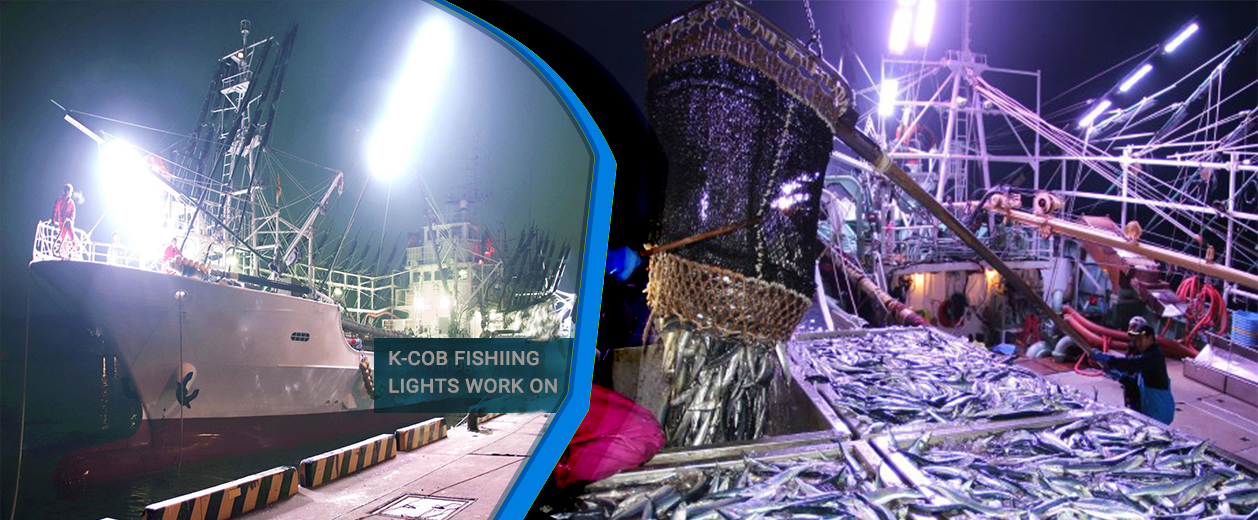 K-COB LED HIGH-INTENSITY OVERHEAD FISHING LIGHT
Compared to other floodlights on the market, our High-Intensity Overhead Fishing Light specializes in durability, affordability, and brightness. These can be used for a multitude of applications including navigation, masthead lighting, commercial fishing, lobstering, crabbing, floundering, gigging, ATV or UTV lights, floodlighting, or really anything.
COMMERCIAL FISHING
Primarily, our overhead fishing light has been used in commercial fishing operations to increase visibility at night as well as increasing safety on the boat. Large freight boats in shipping lanes will be able to see your boat with these lights mounted on them. Commercial fishermen catching crab, lobster, and various fish will have increased visibility for working during the early morning or night.
HIGH INTENSITY
Our High-Intensity k-cob Overhead Fishing Light is incredibly bright when compared to other floodlights. Most floodlights on the market are halogen bulbs which burn up in under a year. LED lasts for over 55,000 hours of runtime equivalent. Not only will it last forever, but it will be incredibly bright.
INSTALLATION INFORMATION
The overhead fishing light can be easily installed to the masthead, or really anywhere it will light up the boat. On the backside of the light, there is a stainless steel bar that can be mounted to a mount of your choosing.
Write your message here and send it to us