HIGH POWER LED K-COB STADIUM LIGHTS-SPLA SERIES 600-1200W
1. KCOB lighting system saves electricity and running costs.
Taking 6 hours of use per day, the electricity bill is 1.0 RMB per kilowatt-hour as an example:
Lighting type
K-COB STADIUM LIGHTS
Traditional lamps
Power
500w
1500w
Daily electricity consumption(kw/h)
500*6/1000=3kw.h
1500*6/1000=9kw.h
Electricity bill per lamp per day(RMB)
3*1.0=3rmb
9*1.0=3rmb
Electricity bill per lamp yearly(RMB)
365days*3=1095rmb
365days*9=3285rmb
Annual savings in electricity bills per lamp(RMB)
3285-1095=2190rmb
If 100 pcs of sports lights are installed on a site, the annual electricity bill can be saved as 2190*100=219000 RMB, it almost can save $34488 per year.
2. Cost-effective and high performance option
1)30% cost savings compared to other similar lighting systems;
2)Compared with ordinary LED lamps, the light source utilization rate is increased by 25.6%;
3)KCOB Lighting System saves you more money than other similar lighting equipment on the premise of obtaining the same illuminance level;
3. Minimising glare to increase the playing experience
1)Single optic system makes sure more light&energy is centralized in the target area;
2) Compared with other SMD sports light, KCOB light structure reduces spilled light effectively;
3)Professional light distribution design with minimal glare and spill to the neighboring residences;
4)K-COB stadium lights SPLA friendly fitting ideal for projects nearby residential areas with specific light regulations, with low light pollution ULOR 0%
4. Constant illumination level
1)The illumination level and uniformity remain constant for 10,000 hours (customized by customers), providing customers with quality and quantity of lighting;
There is no attenuation process from initial illuminance to maintaining illuminance, thus reducing the need for additional equipment;
Project cost savings, reducing the number of lamps and power supply requirements;
5. Professional light distribution system
Point-by-point light distribution system, outstanding energy-saving effect;
High-strength shell material and high-reliability structural design greatly reduce the failure rate of lamps
Multiple options for effective light distribution to get the precise light distribution
6. High color rendering system, restore the true beauty of the stadium
As we all know, color rendering affects the quality of visibility in terms of how realistic colors look under artificial lighting, taking daylight as a reference;
Most new sports lighting fixtures that use LED luminaires will today have a CRI of 70, which is higher than the EN norm stipulates. CRI in the 80 to 90 range are observed mainly during televised sports events.)
K-COB STADIUM LIGHTING SPLA 600W-1200W
● Dual in one heat sink
Maximizing the contact area between
fins&pipes, dissipating the heat by the reserved 360° air vent.
Customizing for K-COB light source.
● Metal Halid Outlook
Made of 6063 aluminum,
light weight and rust proof,
private molding.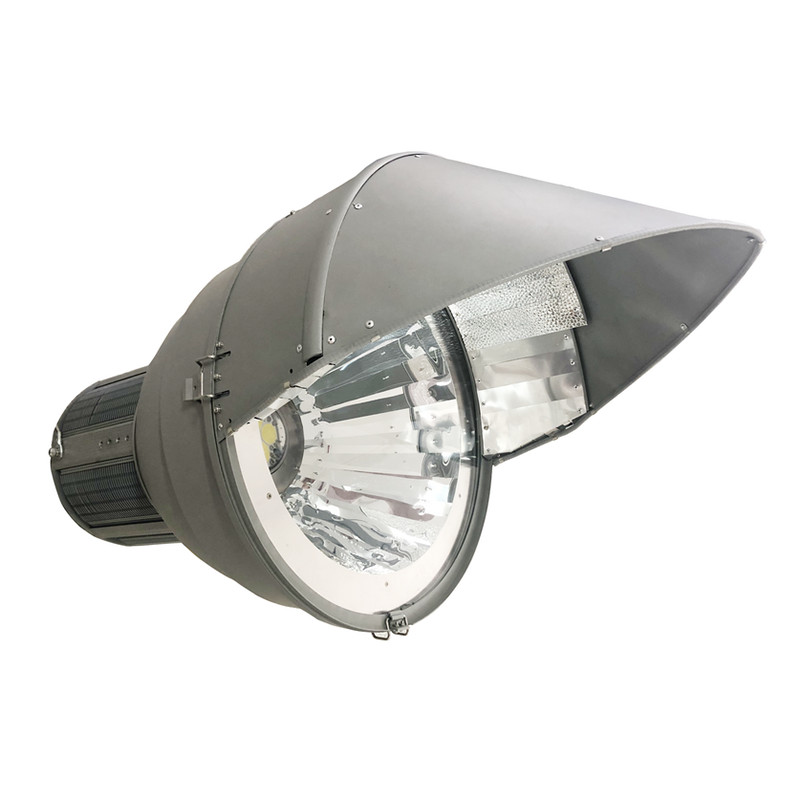 ● Perfect Glare Prevention
3kinds of visor provide different lighting
distance and perfect glare prevention at
the same time.
● Patented Phosphor Ceramic Light Source
Exclusive single Phosphor ceramic light source of 1200w, 55,000 hrs lifespan.LM80 approved, and Invention patent listed in USA/Korea/Japan, and China
● Delicate Distribution Reflector
Made of mirror aluminum VEGA98 by
ALMECO, 98% light reflecting rate. B.A of
10° /15°/25° /30°are available , can meet
the requirement of different stadium.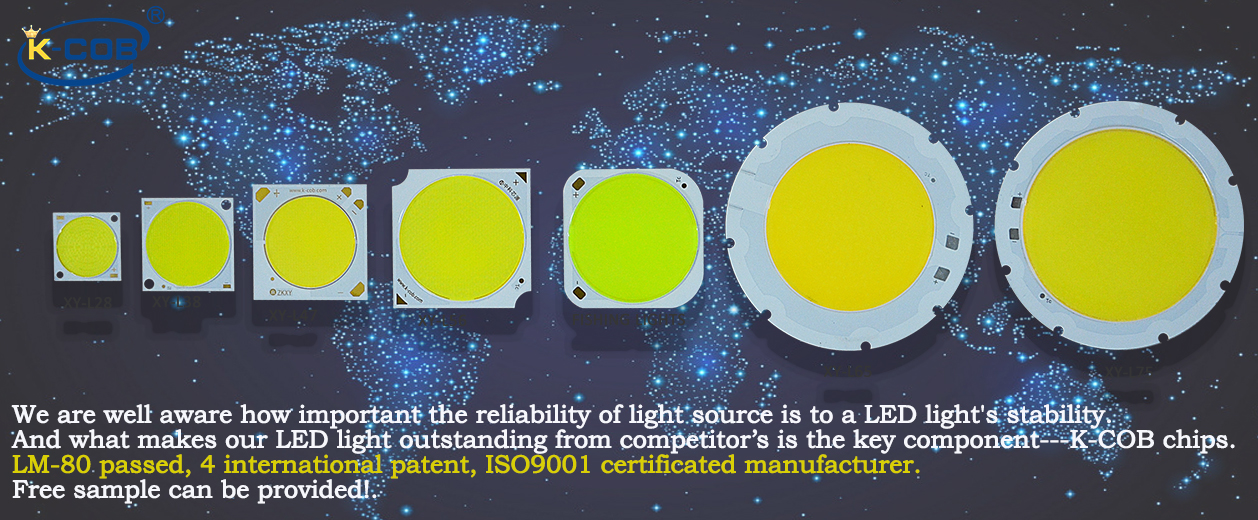 K-COB is a unique LED packaging pattern -- by using exclusive Phosphor ceramic to replace traditional silicone and phosphor,
this brand new generation LED light source brings better reliability and extremly low lumen decay.
| | | | | | | | |
| --- | --- | --- | --- | --- | --- | --- | --- |
| Item No. | Power | Input Voltage | CCT | CRI | Lumen | Efficacy | Beam Angle |
| SPLA600 | 600W | AC126 ~ 528V | 2200~ 6500K | 70~85ra | 6600lm | 110~130lm/w | 15°,25°,etc |
| SPLA1000 | 1000W | AC126 ~ 528V | 2200~ 6500K | 70~85ra | 11000lm | 105~125lm/w | 15°,25°,etc |
| SPLA1200 | 1200W | AC126 ~ 528V | 2200~ 6500K | 70~85ra | 132000lm | 100~120lm/w | 15°,25°,etc |
Production Line of sports lighting:
The way to ensure that you devise the best possible solution for your situation is to make sure that all those stakeholders are communicating with each other as much as possible.
Your project is unique and each sector has different requirements. For example, sporting associations usually have a lighting level known as 'the average horizontal illumination level' which is measured in lux and these can differ enormously between a 'training level' and a 'national level'.
HIGH POWER LED K-COB STADIUM LIGHTS-SPLA SERIES 600-1200W is optimized for customers requiring a LED solution for expressway, freeway interchanges, sports fields, airports and other large area applications. The modern design incorporates the big heat sink for heat transfer to prolong LED life. This reliable LED Sports Lighting has a 80,000-hour design life, significantly reducing maintenance needs and expense over the life of the fixture. This efficient solution lowers energy consumption compared to traditional HID fixture for additional operating cost savings.
Leave Your Message
Write your message here and send it to us