High Quality Deep sea fishing lights 10,000W Nighttime fishing for Fisheries and aquaculture
How fishing lights works?
If you are familiar with fishing industry, you must know that using fishing lights is a very common operation, especially in pelagic fisheries. The underwater fishing light is an indispensable product in the operation. It mainly uses the phototaxis characteristics of fish and attract&catch them by using appropriate light. The phototaxis refers to a characteristic of fish that produces a directional response to light stimuli.
What is the best underwater fishing light?
The light source of fishing light was mainly metal halide lamps before. It's light, cheap and of course got its own shortage. In recently years more and more MHL lamps has been replaced by LEDs which has more advantage and more cost-effective.
K-COB UNDERWATER FISHING LIGHTS

VS

Metal Halide Lights
Anti-corrosive brass heat sink, frames good endurance for high pressure
Glass products, easy to break, unsafe
Particular spectrum designed for maximizing the effect of attracting deep sea fish
Metal halide lamp 360 degrees, 70% ineffective light
Instant on/off, no flickering
The startup takes 10 minutes to reach full brightness
Light decay: 5% after 3 Years working
Light decay:80% after 3 yeas woking
Learn about the specs of your underwater fishing light.
1. Light intensity
The light intensity received by the fish eye is related to the water depth in which lives, and the attenuation speed of sunlight is different when depth changes.
2. Spectral distribution
In general, the propagation attenuation of the violet-blue band is small in the deep sea, and different fishes feel different effective spectral wavelengths. For example, Regards squid, the most suitable fishing water depth is 30-50 meters, as squid could obtain the necessary energy for growth in this area. So the most suitable wavelength is 450-500nm.
3. Optical distribution
The shape of the fishing boat determines the optical distribution of the fish collecting lighting system on the water.
However, a reasonable and effective lighting system design can also greatly improve the efficiency of fishing. In addition, K-COB LED underwater fishing lights can not only provide appropriate wavelengths, photon fluxes, and optimal optical distributions can also be provided through the intelligent control system to enhance the fish-baiting effect and improve working effectiveness.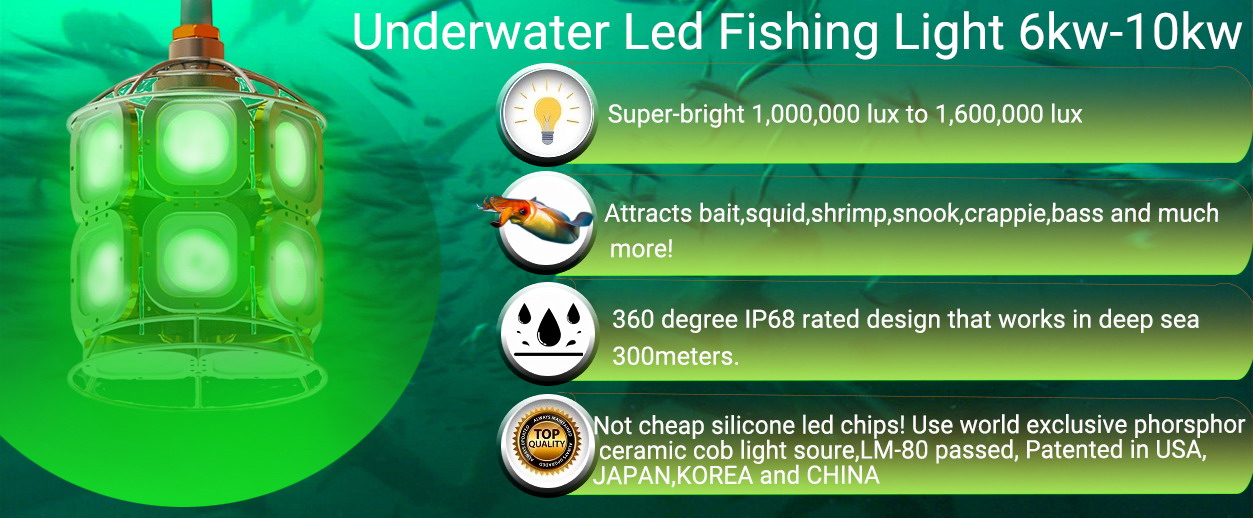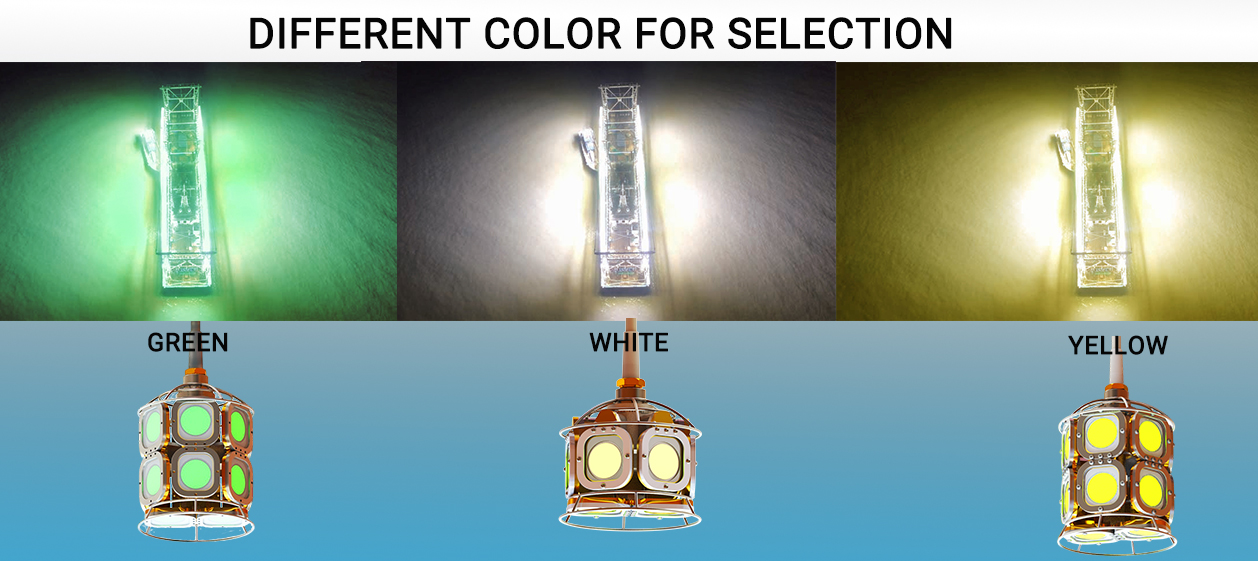 The input of K-COB fishing lights adopts three-phase three-wire 380V, no neutral wire and ground wire, no need to consider phase sequence and phase load distribution. And the lighting drive powered by the programming of the intelligent control module, controlling lights on and off at distance,and dimming 0-100% as well. The Surge protect:>1500V. This underwater fishing light has a power can up to 10KW, which is the most powerful LED lamp in the world;
Specification
| | | |
| --- | --- | --- |
| Item No. | UFS-6KW | UFS-10KW |
| Power | 6KW | 10KW |
| Luminous Flux | 100W lux | 160W lux |
| Size | Φ200mm X 240mm | Φ200mm X 340mm |
| Beam Angle (half intensity): | 360° | 360° |
| Subsea umbilical cable | 2*6mm2 | 2*6mm2 |
| Input Voltage | AC260~475V,efficacy > 90%; | AC260~475V,efficacy > 90%; |
| Color Choice: | Green,Yellow,white(optional) | Green,Yellow,white (optional) |
| Light Wavelength | 450~550nm | 450~550nm |
K-COB Underwater Fishing lights for squid
Dimensions Drawing
Model: UFS6KW 
Model: UFS10KW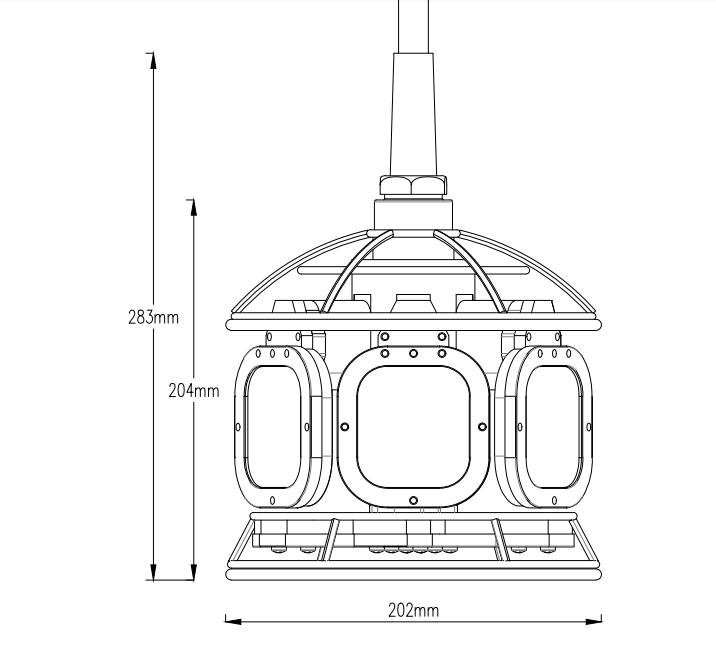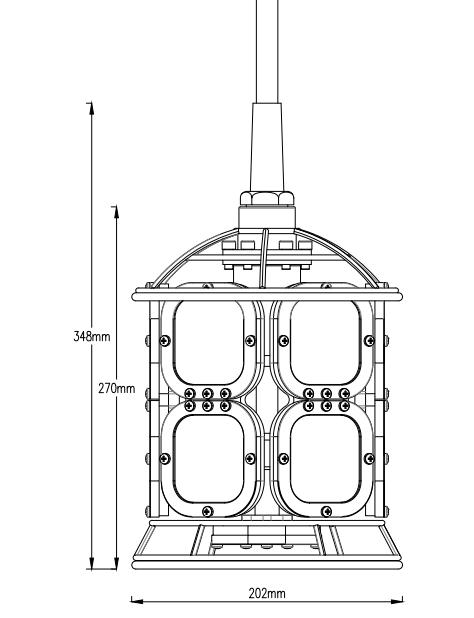 Net Weight: 8kg
Net Weight: 12kg
Most Frequently Asked Questions
1. Do underwater fishing lights actually work?
It is well known that many species of fresh and saltwater fish mainly feed at night, but it is often difficult to catch them. Underwater fishing lights solve this problem by bringing the fish right to you. After a short amount of time in the water, the light causes a chain reaction.
The light initially attracts masses of microscopic marine algae called phytoplankton that cloud the water. These small organisms attract common baitfish to the light and after 15-30 minutes they will appear to be memorized by the light and continuously swim circles around it. These baitfish are all you need to make for the best night fishing experience you have ever had. Predator fish will begin to crowd the light and take advantage of the easy meal!
Soon after the phytoplankton and baitfish show up the predator fish will too. Fishing the outer edges of the light will produce more bites than directly in the light. That's where the bigger fish will be circling and occasionally dart into the light for an easy meal. Matching the bait size and color that is swimming around the light will result in significantly more strikes. If you prefer using live bait, just net a few swimming around the light and "match the hatch" perfectly!
2. What type of battery do I need to operate the light?
Any commonly found AC 380V outlet will power the light.
3. Will it work in dirty water?
Our LED fishing lights have some of the industry's highest luminous efficiency ratings. The LED technology is advancing very quickly making more efficient and brighter lights with much less energy.
Actual lumens vary with the color of the LED, supplied current, and other factors. This light is bright enough to penetrate cloudy waters.
4. What type of fish can I expect to attract?
SALTWATER APPROVED!
Many saltwater species are attracted to underwater lights such as snook, redfish, seatrout, rockfish, snapper, tuna, shrimp, squid, and a huge variety of baitfish!
FRESHWATER APPROVED!
Many freshwater species are attracted to underwater lights such as a variety of bass, crappie, trout, catfish, perch, and a variety of freshwater baitfish!
5. Does it float or sink?
The underwater fishing light is self-weighted 8KGS- 12KGS and will sink in water, depth up to 500m. Waterproof: IPX8.If used in a strong current/tide area we recommend adding lead weight to the bottom hook to keep the light from moving too much. This will allow the more "finicky" species of fish to feel comfortable in the light. We also recommend using a separate lowering line attached to the top hook to prolong the life of the power cord.
Write your message here and send it to us