new cob led 50w 100w 150w 200 watt 300W COB with superior output efficacy and reliability
Specification
Item No.

Rated Power(W)

Forward Voltage Vf(V)

Rated Currency If(mA)

Max Input currency(mA)

CRI(Ra)

CCT(K)

Efficacy Im/w

Based on 70ra

XY-L2805

50

49

1020

2600

70/80/90

2000-6500

165lm/w

XY-L2810

100

49

2000

2600

70/80/90

2000-6500

160lm/w

XY-L2815

150

49

3050

3150

70/80/90

2000-6500

150lm/w

XY-L3815

150

59

2400

2550

70/80/90

2000-6500

165lm/w

XY-L3820

200

59

3150

3250

70/80/90

2000-6500

160lm/w

XY-L3830

300

105

2700

2850

70/80/90

2000-6500

150lm/w
Specification
Item No.

Rated Power(W)

Forward Voltage Vf(V)

Rated Currency If(mA)

Max Input currency(mA)

CRI(Ra)

CCT(K)

Efficacy Im/w

Based on 70ra

XY-L2805

50

49

1020

2600

70/80/90

2000-6500

165lm/w

XY-L2810

100

49

2000

2600

70/80/90

2000-6500

160lm/w

XY-L2815

150

49

3050

3150

70/80/90

2000-6500

150lm/w

XY-L3815

150

59

2400

2550

70/80/90

2000-6500

165lm/w

XY-L3820

200

59

3150

3250

70/80/90

2000-6500

160lm/w

XY-L3830

300

105

2700

2850

70/80/90

2000-6500

150lm/w
DIMENSIONS DRAWING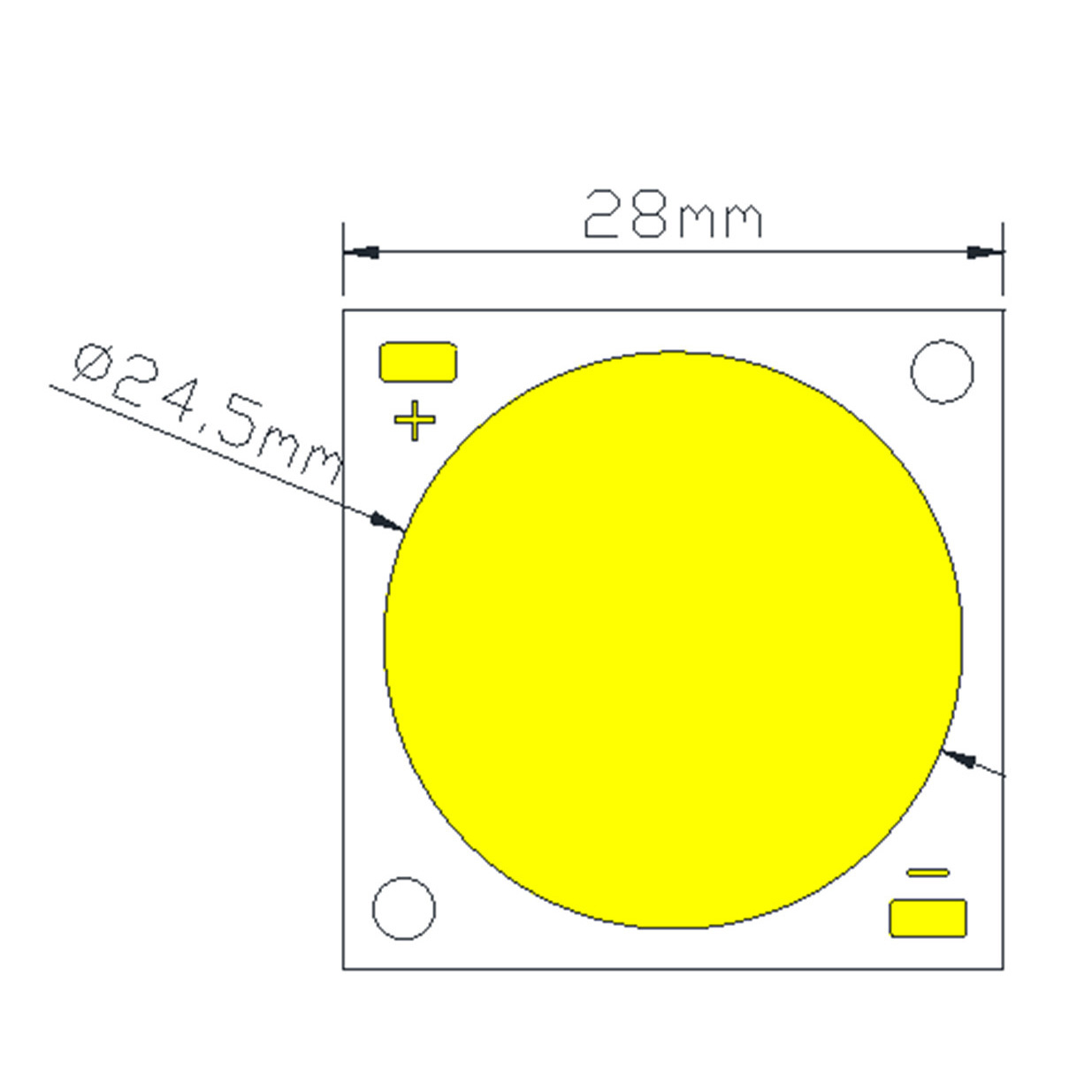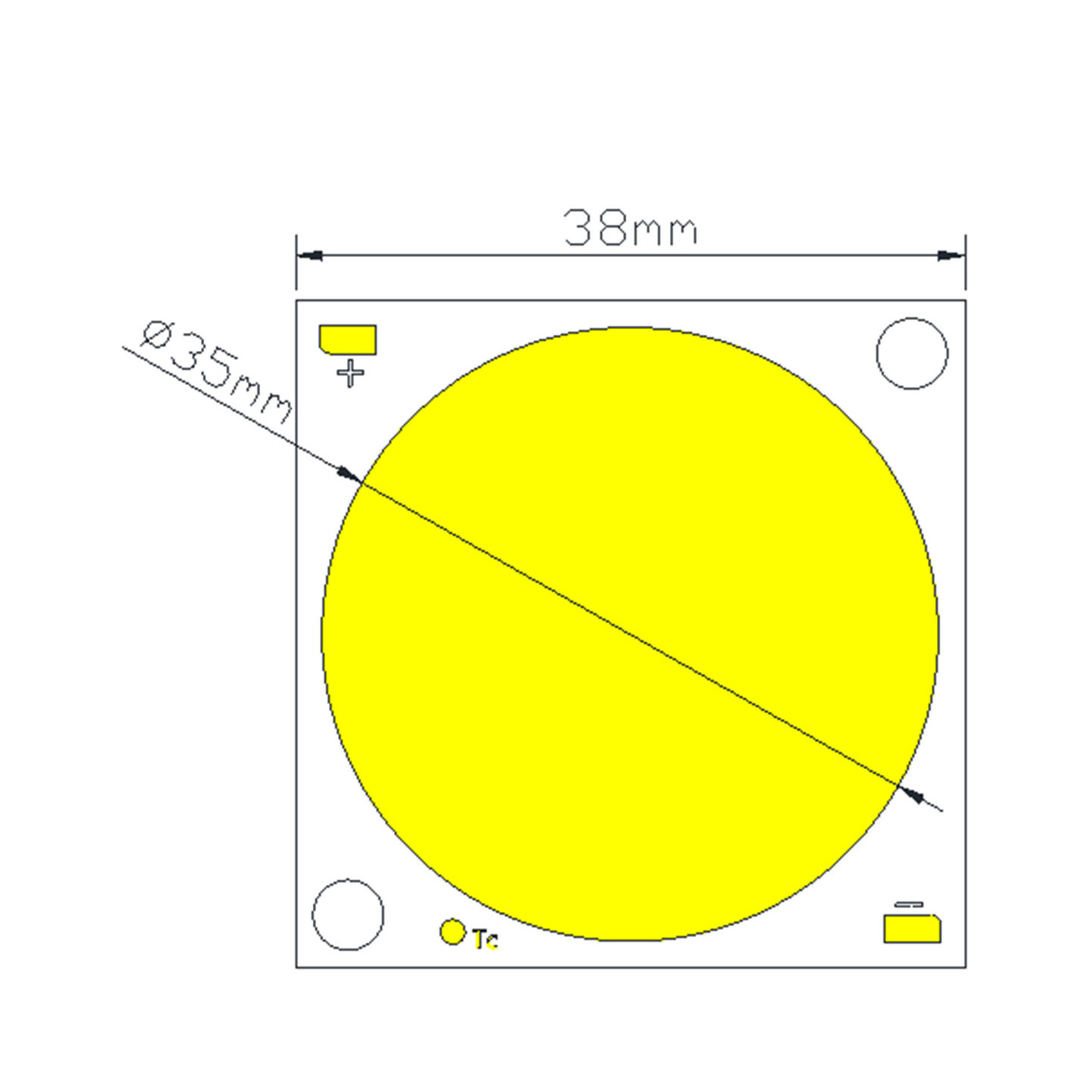 *Size & Circuit is customizable based on the requirement
K-COB (Maximum power for single chip could reach 1600w)
K-COB LED arrays provide the industry's best lumen density and efficacy for metal-based chip-on-board (COB) LEDs in industry-compatible footprints and LES sizes. This COB family features an innovative exclusive patent phosphor ceramic technology as well as dual heat-sink technology to deliver higher reliability and output than competing products. The K-COB LED arrays include 10 LEDs across three (9.8 mm, 14.5 mm and 22 mm) LES sizes with standard color options of 70, 80 and 90 CRI. Premium color options that include high fidelity (98 CRI) and specialty color points are available to deliver color quality without compromise in efficacy, lumen density, color consistency and reliability.
The K-COB Series is a comprehensive range of metal-based COBs available in various LES, CRI, CCT, efficacy, and drive current options. The heat could be radiating from both PCB directly and laser ceramic surface by sapphire.
This dual heatsinking structure allow us make COB at smaller size but higher wattage and better reliability.
The Phosphor ceramic is the high heat conductivity rate: 13.367W/m.k, 75 times of traditional phosphorus powder (YAG 05+sil1018), which ensures excellent lumen maintenance and color stability even in high lumen applications. Tight color binning ensures fixture-to-fixture uniformity. A 97 CRI (90 R9) version is available for color-critical applications.
Please contact send us an email to ask for more recommendations, help and advice for your lighting projects
Write your message here and send it to us