Sport Lighting 600w 1000w 1200W baseball field lighting design For Arena Lights
PRODUCT FEATURES
SPLC series is a high power LED fixture for sports lighting. It's our private mold with single 1600w phosphor ceramic COB, high efficacy reflector, and customized dual heat pipe heatsink, patent listed in China, Korea, Japan, and the USA.
SPLC is aimed at big stadium lighting such as golf resorts, soccer fields, basketball stadiums, rugby pitches, baseball courts, etc.
Whether it's a stadium calling for new lighting or energy-saving retrofits, K-cob can help you to make a lighting design that provides precise light for players and fans instead of lighting up the surrounding neighbors' yard.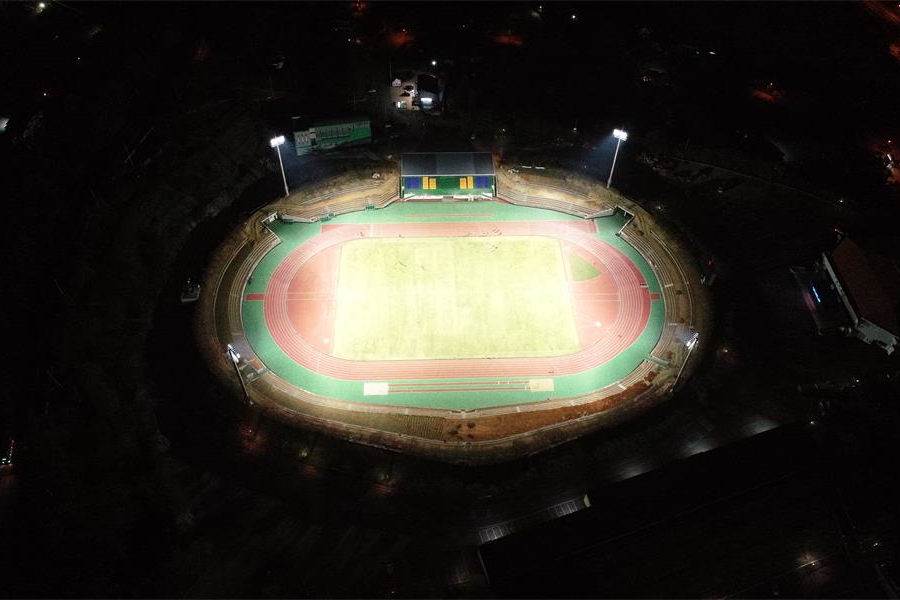 What kind of lamps are used in sports stadium?
When choosing lighting fixtures, the visual requirements of various sports should be considered in detail. For example, the shooting range has high requirements for the illumination of the target; at the same time, for safety, general lighting with soft light is required between the launch site and the target. In a large sports field, the distance between the audience and athletes is big, and high illumination is required.
In addition, the lamp selected must not produce a distracting flickering effect. People used to install the lamp on four high towers for the stadium with a grandstand. This method can avoid glare, but the cost is higher. Meanwhile smaller stadiums used lower-cost sidelights, and eight poles with a height of 12 to 20 meters that can be installed on both sides of the stadium.
Before LED was invented, the metal halide lamp is the most popular lighting fixture of sports venues, as it emits a high volume of white light. However, due to various shortcomings such as slow startup, large heat generation, high energy consumption, and short lifespan, metal halide lamps have gradually been replaced by LED lamps. Welcome to check more details as below:
Precision lighting – Light up your field, not your neighbor's house
Real single optical system: single 1200w COB+mirror aluminum reflector+3kinds of visor for different lighting distances. This design can control the spilling light by maximum and centralize the output light in the projected area only.
The ultra-low glare level and high uniformity SPLC provided are applicable to HDTV broadcasting.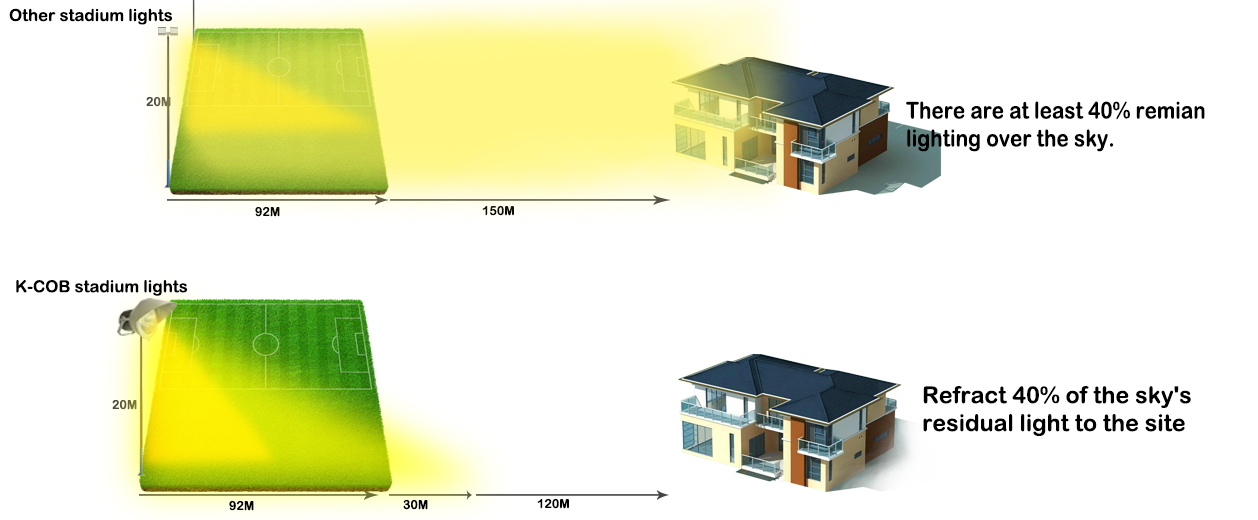 Metal Halid lamp style: old school body with a pumping heart
SPLC is a private-molding product made of 6063 aluminum, so it's lightweight (<18kg, including the bracket).and very friendly for working at height.
Unlike other big, flat, modular LED floodlights on the market, this product has a very similar outlook to metal halide lamps, a tribute to the sports events of good old times. Meanwhile, it is equipped with the most advanced LED light source--- phosphor ceramic COB.
SPLC is rust-proof and IP65 rated.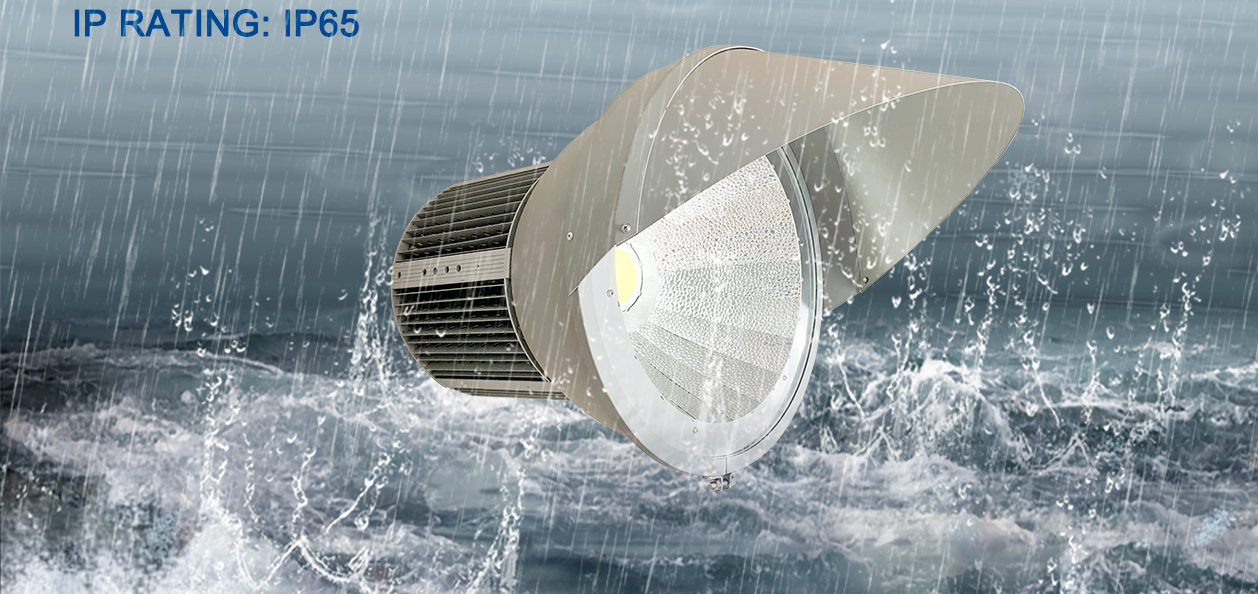 How to keep my LED stadium lamp cool?
Heat dissipation has always been a technical problem that LED products cannot bypass. It's known to all that poor heat dissipation leads to decreasing in LED output efficacy and shorten LED lifespan. See how KCOB resolves it:
1. Dual heatsinking channel for KCOB:
KCOB is packaged by self-invented phosphor ceramic. And this gives the light source the 2nd channel for heat dissipation. The heat generated by the chip is conducted through PCB and phosphor ceramic cover. This dual heatsinking channel structure provides an additional 40% heatsinking space and brightens up the heat conductivity by 30%.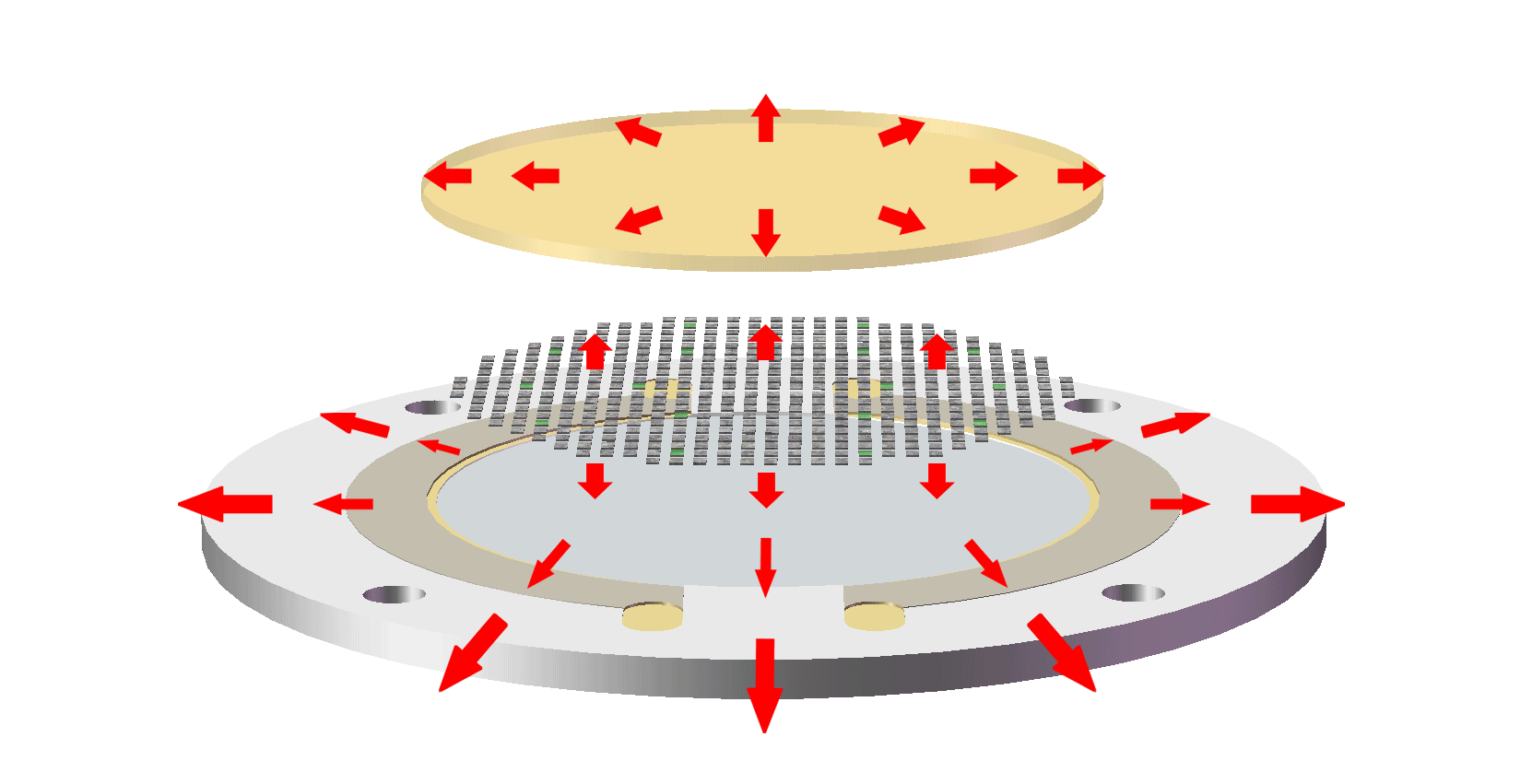 2. Dual Heatpipe heatsink:
The heat-generating by a 1200w, φ75mm LED chip is so centralizing that few heatsinks are able to dissipate. In order to resolve this problem, KCOB engineers develop a heatsink with a very innovative structure---using two layers of Heatpipe instead of one. The contact area of fins&pipes has been minimized and heat is dissipated by reversed 360° air vent. This structure upgrades the whole aluminum body into a high-efficiency heat conductor and allows us to make the heatsink compact and lightweight.
These two techniques are the secretes why SPLC looks so small&delicated.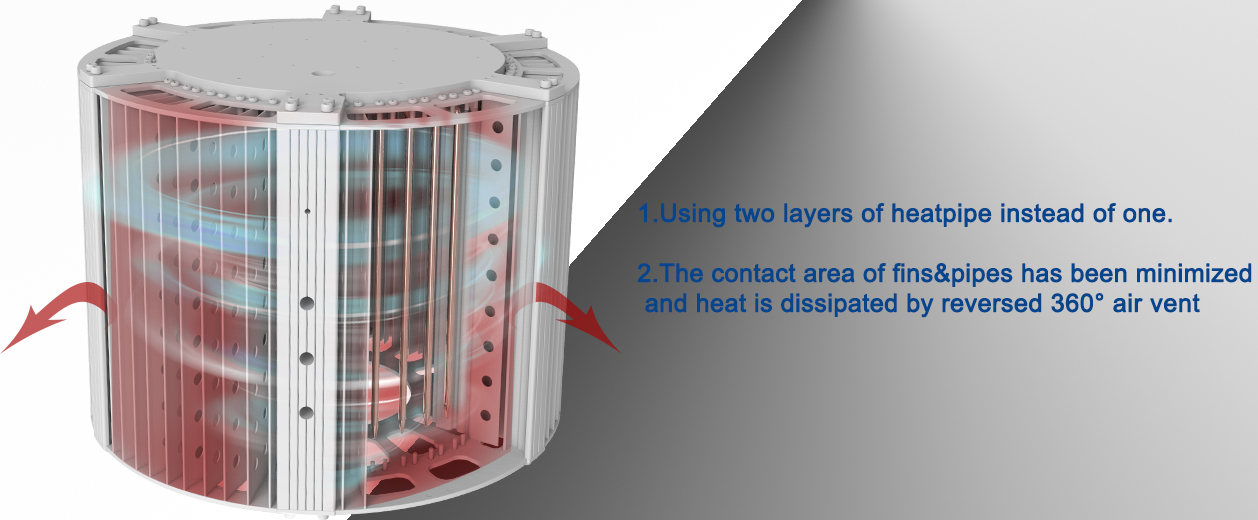 PHOTOELECTRIC PARAMETER
| | | | | | | | |
| --- | --- | --- | --- | --- | --- | --- | --- |
| Item No. | Power | Input Voltage | CCT | CRI | Lumen | Efficacy | Beam Angle |
| SPLC600 | 600W | AC180 ~ 528V | 2200~ 6500K | 70~90ra | 72000lm | 120~130lm/w | 15°,22°,25° |
| SPLC1000 | 1000W | AC180 ~ 528V | 2200~ 6500K | 70~90ra | 120000lm | 120~130lm/w | 15°,22°,25° |
| SPLC1200 | 1200W | AC180 ~ 528V | 2200~ 6500K | 70~90ra | 144000lm | 120~130lm/w | 15°,22°,25° |
Comparison between KCOB stadium light&other SMD sports light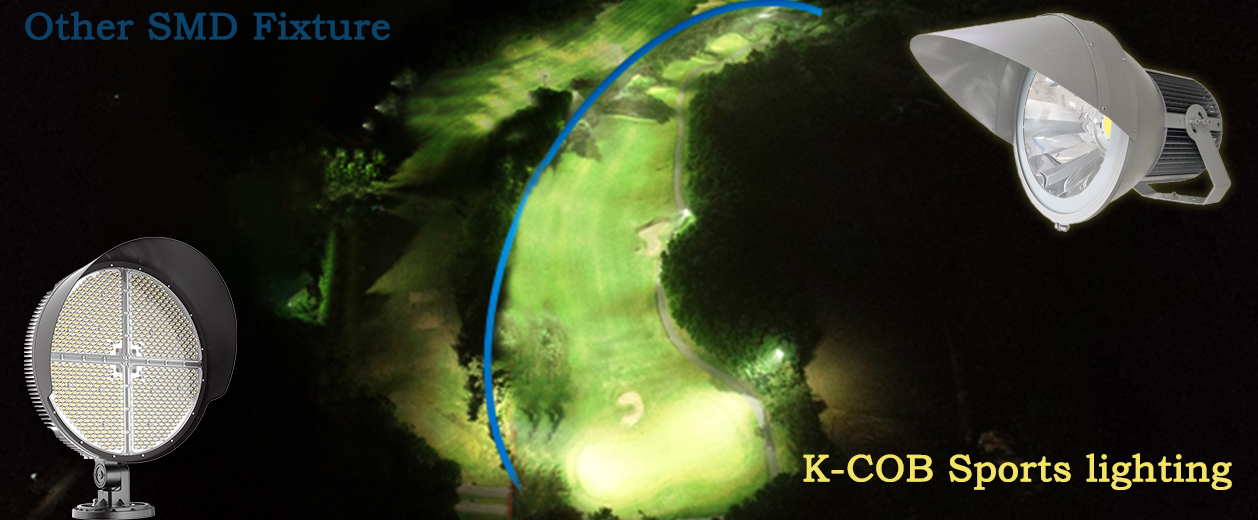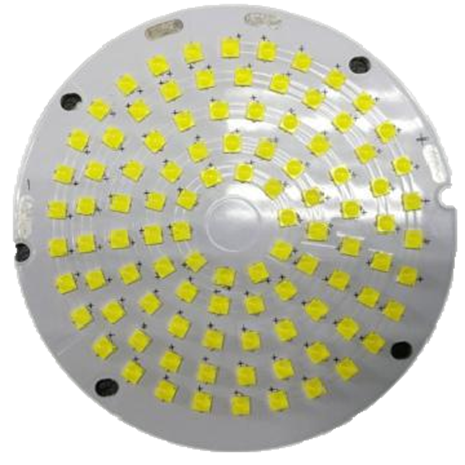 SMD array:
LEDs are separated due to the difficulties of heat sinking and forced to through the inefficient plastic lens.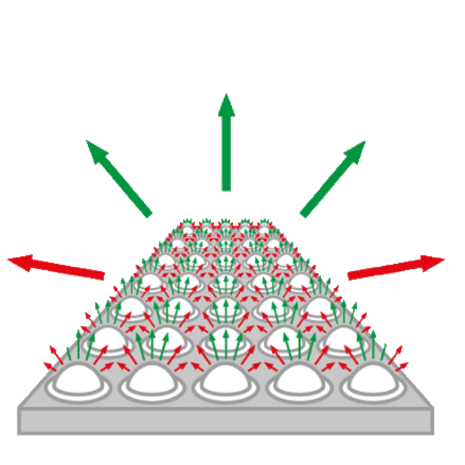 Lens:
Warp and crack after long-time working.
Glare&dark spot is inevitable in actual case.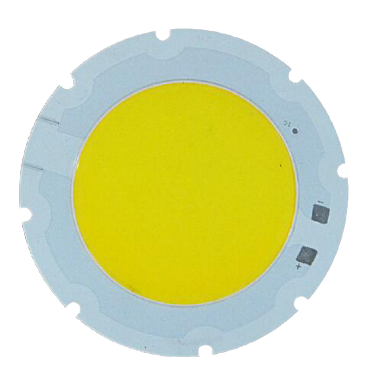 Real single light source:
Exclusive phosphor ceramic COB with high light density LES φ 75mm for 1200w.
LM80 certificated.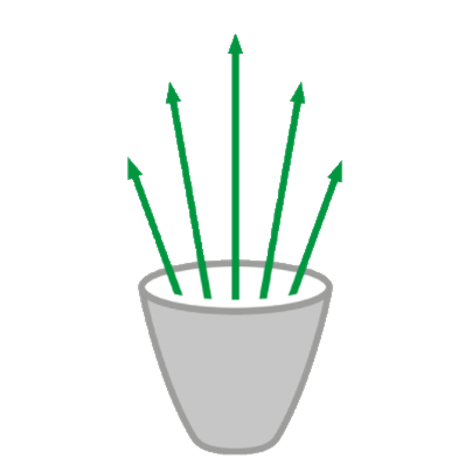 Proven reflector technique:
High efficient reflector by ALMECO,
No glare and scatter outside of projected lighting area.
Application of K-COB LED SPORTS LIGHTING
How much does sports field lighting cost?
You may wonder" How much does a sports field lighting cost", a matter of fact, it depends on the brand and quality level you choose for the led sports light. And the stadium scale and illuminance level have a big impact on the total cost as well. KCOB is a professional lighting designer and lamp manufacturer. We are always ready to provide our customers with the most competitive proposal. Please contact us for inquiry.
Our LED Stadiums 1200W Lumen 144000Lm 15°,22°,25° IP65 stands out for its modern and innovative design. Designed for sports lighting at the highest levels of competition and sports demands.
It offers a high luminous flux, a great light distribution, a simple installation and maintenance, together with a great reliability and flexibility.
Its power, together with its great luminosity of the 1200W Lumen 144000Lm LED Stadium lighting, make it a perfect option for indoor and outdoor sports areas, thanks to its high degree of protection IP 65. It is the best option for dock lighting, stadiums, or venues that you want to provide with special lighting.
It has a long useful life, around 80,000 hours, and also provides a considerable increase in energy savings thanks to the high-quality components that make it up.
Write your message here and send it to us