K-COB LED HIGH MAST LIGHT 300W-500W
High mast lighting is used in large public or commercial spaces such as warehouses, shipyards, rail yards, highways, parking lots, stadiums, etc. They are installed in the fairly tall mast ( 18m to 30m) to illuminate large spaces evenly.
In addition, they are controlled by a motorized drive mechanism, which facilitates the process of installation and maintenance.
Here are a few things to keep in mind before buying high mast lights:
First, we need to understand the basic structure of the high mast lighting system, which is mainly composed of four parts: lamp pole, lifting system, lamp fixing platform, and the high mast led lights.
1. Lamp Pole
High mast lighting poles should be made of thick walls and overall hot-dip galvanizing. Since the height of the high mast light fixture is at least 18 meters, it should be thick enough to ensure the safety in the strong wind environment, and the overall hot-dip galvanizing can ensure that the light pole will not rust or corrode within 15 years.
2. Lifting system
The lifting system is the central component of the high mast lighting projects. The lifting system is mainly composed of a hoist and a wire rope. We should choose a wire rope which is reliable enough,  then there will be no problem with the whole lifting system.
3. lamp fixing platform
The fixing platform is the joint that keeps the LEDs attached to the pole firmly. The anti-corrosion grade and its weight loading capacity must meet the corresponding standards.
Some manufacturers may apply cold galvanized instead of hot galvanized for higher profit, which will result in fast corrosion in a short period of time.
4. High mast lighting fixtures
Sodium/Metal halide bulbs and LEDs are the light sources for high mast lighting fixtures. And LED is proved to be more cost and energy-efficient in the long run.
Metal Halide LIGHTS vs K-COB LED HIGH MAST LIGHTS Comparison
| | | |
| --- | --- | --- |
| Model | Metal Halide lights | K-cob led high mast lighting |
| CCT | 3000K/5000k | 2200K-6500K (wide range of color temperatures) |
| Emissions (In Visible Spectrum) | Metal Halide lights produce relevant amounts of both IR and UV radiation. | LEDs produce a very narrow spectrum of visible light without the losses to irrelevant radiation types (IR, UV) or heat associated with conventional lighting, meaning that most of the energy consumed by the light source is converted directly to visible light. |
| Ultraviolet & Infrared | IR radiation & UV radiation | None |
| Warm up time | 15-30 minutes | Instant on/off (there is no warm up or cool down period) |
| Dimming | can be dimmed through the use of different electric or magnetic ballast but the process changes the voltage input to the light and can consequently alter the light characteristics. | Easy dimming via compatible LED dimmer |
| Efficiency | 70lm/w-100lm/w | 110~140lm/w |
| Light decay | 20%  after working 1,000 hours | 2% after working 3 years |
| Lifespan | 6,000 hours to 15,000 hours | Over than 55,000 hours |
| Heat Emissions | Metal halide bulbs emit a significant amount of heat (roughly 10-15% of the total energy consumed is emitted as heat). | LEDs emit very little forward heat. |
| Maintenance Costs | Replace aging or expired lights several times within the typical lifespan of a single LED. | Maintenance Free |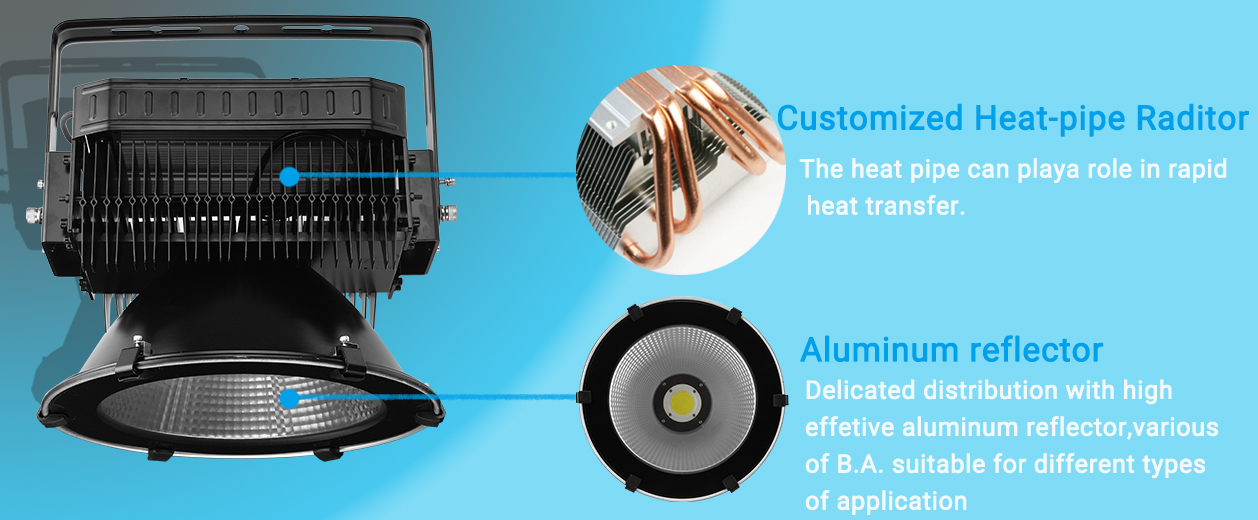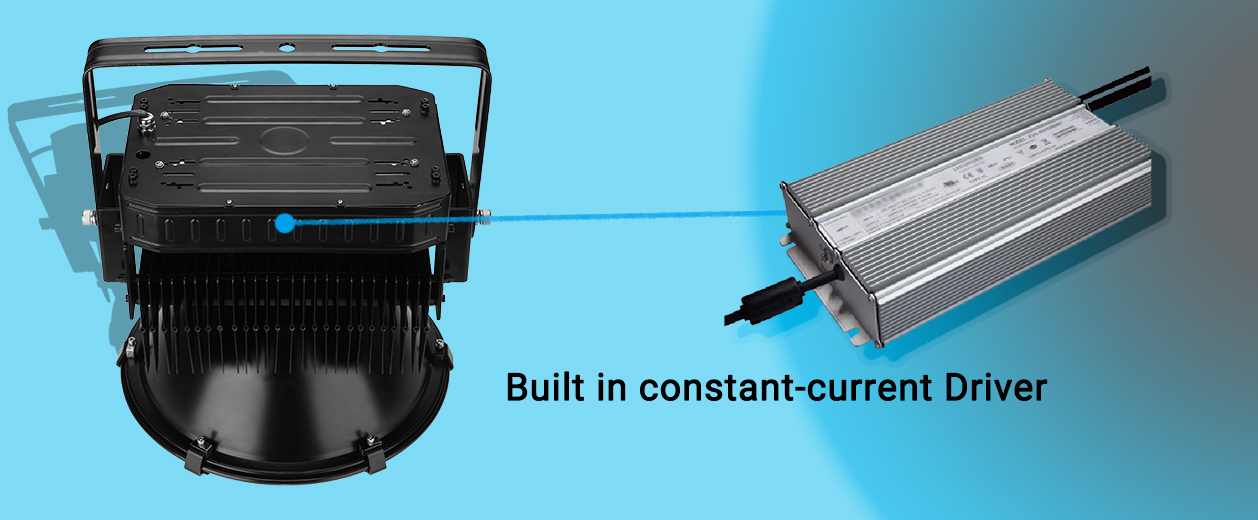 High mast lighting projects image for reference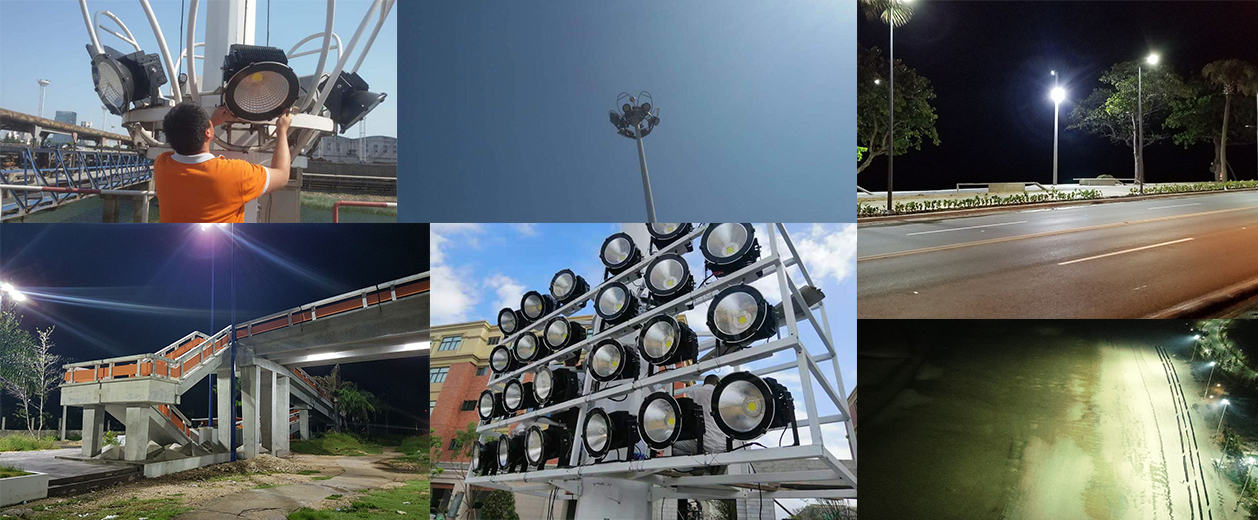 PHOTOELECTRIC PARAMETER
| | | | | | | | |
| --- | --- | --- | --- | --- | --- | --- | --- |
| Item No. | Power | Input Voltage | CCT | CRI | Lumen | Efficacy | Beam Angle |
| HMA300 | 300W | AC90 ~ 305V | 2200~ 6500K | 70~85ra | 34500lm | 110~140lm/w | 10° , 15°, 30°,60° |
| HMA500 | 500W | AC90 ~ 305V | 2200~ 6500K | 70~85ra | 57500lm | 110~140lm/w | 10° , 15°, 30°,60° |
DIMENSIONS DRAWING
Model No. HMA300
If you are worrying about how to change traditional port lighting systems, we are here to assist you by providing high-quality LED HIGH MAST LIGHT 300W-500W. The invention of new LED lighting systems was made to enhance the lighting of the port. The new LED high mast lights have the capacity to last for approximately 80,000+ hours. You can assume that you'll be free of maintenance costs for nearly 10 years.
Fast Strike or Turn On/Off Time: The most important thing to be taken care of, in port areas, is security and safety. The traditional metal halide lights have the drawback that they take a long time to turn on, after being off or after shut down. But in the case of LED high mast lights, lighting is easier and safer than before. They are switched on and off, instantly, and don't take a single second to get started. This helps to a large extent in security and safety of the ports.
Fixture reliability: money&time cost for the fixture repairing is not a small case. Equipping with K-COB and customized heat pipe, IP65 protection and salt-spraying test approval, our high mast light provide you with a total maintenance free solution;
Light Quality: unlike those big, flat square SMD product, we choose the combination of COB&proven reflector technology. It guarantee the performance like no dark spot,high grounded lux and no glare to human eyes.
Why not ordering a sample for the new light experience?
Write your message here and send it to us